Arranging a Wedding at St Mary's
People have been getting married at St Mary's for almost 800 years.  If you are thinking of either getting married at St Mary's, or having a church service of thanksgiving after a civil wedding or partnership, we would be delighted to help you at such a joyful time in your lives.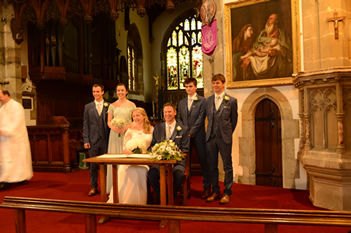 A marriage service is a public declaration of love and commitment to your partner.
If you choose to get married in church, there is an added dimension. You are acknowledging that God cares about your relationship and that God's resources and strength are available to help you.
Including God in your wedding day doesn't mean that you will avoid all the usual ups and downs. But you will know that you can look to God for help and guidance and that his love will sustain you. You will also have the support and encouragement of the church family.
To Arrange a Wedding at St Mary's
To arrange a Wedding at St Mary's please contact the church office who will help to book in your wedding.  They will also arrange for minister to get in touch with you to discuss with you what kind of wedding you want.
Normally those getting married go to their own Parish Church. Everyone in England lives in a Parish and St Mary's covers the eastern half of Hinckley.  If you live outside St Mary's parish it is still possible to marry here, providing you have a qualifying connection.  A list of qualifying connections can be found here: https://www.yourchurchwedding.org/article/finding-a-church/
We wish you a lifetime of love that grows within God's protection. But we recognise that some marriages do fail for all sorts of sad and painful reasons.  This means that many people marrying at St Mary's have been married before.  We would want to have an open conversation with you about your hopes and expectations for your wedding and future lives together before booking the date.
It is possible to have a service of thanksgiving at St Mary's Church led by our clergy after a civil ceremony or same-sex marriage ceremony.  Our blessing and thanksgiving services are designed by the clergy with each couple and tailored to reflect your particular needs. 
We would be glad to meet with you, your partner and your families to explore these important matters.
Coming to Church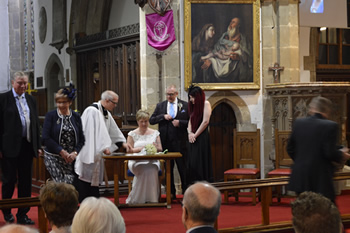 We invite all those getting married at St Mary's to come to church on occasions leading up to your wedding, especially when your Banns of Marriage are being read and we pray for you. Among all the preparations to be made for your wedding day don't forget to prepare for the most important part of all, the service in church. The best way to do this is by coming to church. This way you will get accustomed to the church, and you will feel far less nervous on your wedding day!
Music
The right music, to suit you and your big day, is important. We will discuss with you what you would like and can make suggestions if you would like something a bit different as well. We can play music on the organ and can arrange for the choir to be available as well, as well as having the ability to play CD's. Please discuss this when you meet the minister taking your wedding.
What does it cost?
In 2019 the cost ranges from £589-£784 depending on whether bellringers and choir are requested. For current prices please contact the church office.
Other Questions?
There is a lot of helpful information at www.yourchurchwedding.org or contact the church office.