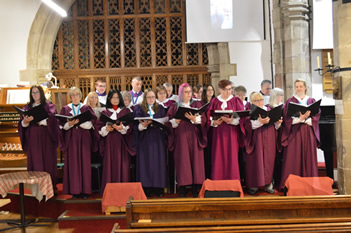 St Mary's Choir has had a long and distinguished history with a fine choral tradition going back over many years, and meet for rehearsals on a Friday evening at 7-30pm. The choir presently sing the first Sunday evening and fourth Sunday morning of the month at Eucharist services and also take charge of leading the 3rd Sunday Evening Service. The 5th Sunday of the month is normally a full BCP Evensong. They also sing at weddings and key services throughout the year like Christmas and Easter. The choir also takes part in the annual Leicestershire Diocesan Choral Festival
The Choir follow the RSCM Voice for life scheme which teaches each member all about music and performance, from absolute beginner to more experienced.
NEW SINGERS ARE ALWAYS WELCOME, AN ABILITY TO READ MUSIC IS NOT ESSENTIAL.
WE ARE A STRONG TEAM THAT WORK HARD, WELCOME NEW MEMBERS AND GET GREAT SATISFACTION FROM EACH PERFORMANCE.
A WARM WELCOME AWAITS YOU.
JUST CALL OUR ORGANIST AND CHOIR MASTER ON 07792 863668 FOR MORE INFORMATION OR TURN UP ON A FRIDAY EVENING.